Highest Quality Care
We are proud that both Bluebonnet schools are accredited by NAEYC (National Association for the Education of Young Children). The Cedar Park location is also accredited by NAC (National Accreditation Commission), and it is the only early childhood facility in the state accredited by both agencies. The Canyon Creek location has also achieved the Texas Rising Star rating and is certified at the Four Star level, the highest quality rating awarded by the Texas Workforce Commission.
Obtaining accreditation is voluntary; a preschool chooses to demonstrate quality far beyond the minimum licensing standards enforced by the State of Texas. An accredited early childhood facility indicates that it provides a strong and positive, nurturing educational experience for both children and their parents.
Accreditation is a school-wide goal that involves teachers, administrators and parents; the process takes many months. Everyone is working to make the education and care of children the best it can be.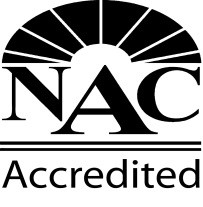 Both NAEYC and NAC require re-accreditation and validator visits every five years, as well as annual reports on improvement.
Choosing an accredited preschool for your child can make a significant difference in your child's early care experience, as well as success in future schooling. Parents want a program that nurtures the child, one that offers transparent and frequent communication and one that gives the child a head start in school. But most parents want more than even that. Parents want a program that encourages an inventive and creative child – one that doesn't squelch a child's natural curiosity. Accreditation is a powerful tool which enables families to choose a truly high-quality facility for their children.
NAEYC Accreditation
NAEYC is the oldest and best known early childhood accrediting agency. In Texas there are over 9000 licensed child care centers, but of those only about 300 are NAEYC accredited early childhood programs.
NAEYC standards are rigorous; they require frequent one-to-one, face-to-face interactions between each child and teacher, smaller group sizes, as well as strong parent participation. Primary consideration is given to each individual child's experience. NAEYC's standards include health and safety, and they focus on developmentally appropriate curriculum and teaching practices, tracking of each individual child's development, and high standards for teacher education, management and leadership.
NAEYC is widely recognized as the toughest early childhood accreditation to earn. According to The Wall Street Journal, "The primary gauge of quality is accreditation by the National Association for the Education of Young Children [NAEYC] whose seal of approval is regarded as the gold standard by parents, educators and facilities," March 24, 2016. The most important benefit of NAEYC accreditation is a preschool which focuses on the needs of the individual child and family. NAEYC accreditation is a difficult, ongoing process for both teachers and administrators, requiring them to maintain evidence and documents that they are complying with the over 400 criteria
NAC Accreditation
The NAC accreditation is part of the Association of Early Learning Leaders, and its principles include family engagement, health and safety, teacher competency, curriculum, interactions between teachers and children, assessment of child development, classroom health and safety and administration standards.